We rely on our refrigerators, dishwashers, and ovens every day to keep our homes running smoothly and efficiently. So, when our major appliances malfunction or break down, the frustration can be overwhelming. However, you don't just have to live with appliances that don't work right. If your refrigerator is leaking, or your oven is not heating evenly, don't fret. Complete Appliance Service is here to help. Our fully trained staff of appliance repair specialists is ready to put our knowledge and expertise to work for you. In addition to providing precision washing machine repair, oven repair, and more, we also offer appliance installation and sell used appliances at our walk-in appliance warehouse. We pride ourselves on bringing high-quality major appliance repairs and installs to the homeowners of Stockton, CA, and beyond, and our outstanding customer service is second to none. Whether you need prompt, efficient appliance repair or are looking for a discount appliance to replace a broken unit, Complete Appliance Service is the answer. Call now to get started.
Residential Appliance Repair
Appliance Installs
Laundry & Kitchen Appliances
Discount Appliances for Sale
Licensed & Insured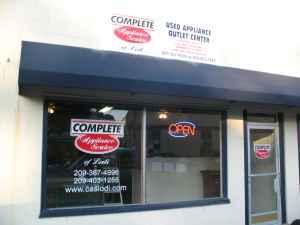 Founded in 2009, Complete Appliance Service offers comprehensive residential appliance repair services to communities in and around Stockton and Lodi, California.
Whether you find yourself in need of refrigerator repair, dryer repair, or any other major appliance repair, our technicians will help your home appliances get back to providing you with maximum performance once again.
Our experienced appliance repair pros have the knowledge and hands-on experience to work on a full range of major appliance makes and models. You can rely on us to provide thorough, cost-effective appliance repair services with minimal turnaround time to restore your fridge or dishwasher to great working condition. As a family-owned business, Complete Appliance Service understands how important properly functioning appliances are to your home, and we work efficiently to minimize disruptions to your daily routines. In fact, our appliance repair professionals are available six days a week to help restore your home to full functionality as quickly as possible. For more information about the appliance repair and appliance installation services offered by Complete Appliance Service, contact us today.
Our team of appliance repair professionals is licensed and insured for your protection and peace of mind.